Orlando FAQs
As one of the most popular vacation destinations in the U.S., you'd think Orlando would have tourist transportation down to a science, right? Sadly, that's not the case. Some of the most common Orlando vacation questions are about transportation – and that's no surprise, as it's a confusing topic. In fact, one man was so frustrated by Orlando ground transportation that he decided to create a searchable database so people could compare prices for shuttles and car service. That man was Rick, the founder of our company.
When Rick first traveled to Orlando with his son years ago, he couldn't believe that there weren't more convenient and affordable transportation options for tourists. A round-trip taxi fare between the Orlando airport and Disney World would have cost him more than $100, not including tolls or tip. He didn't want to spend more than $400 for a sub-compact car rental, either. And when he tried looking online for shuttle fares, he couldn't determine whether those fares included tolls and taxes – even when he would call to ask about additional charges, some companies didn't want to answer his questions.
So Rick created Orlando Shuttle Service to help travelers just like you enjoy a simple, comfortable and convenient Orlando travel experience without paying a fortune for reliable ground transportation. The fares on our site include taxes, surcharges and tolls, so you know exactly what you'll pay – no surprises. We make it easy for you to compare prices for shuttles, car service and limo service, so you can always find the best rate for your trip. And we offer a lot of information here on our website that can answer your vacation questions, or your general questions about how to get around in the Orlando area.
Our Transportation FAQ page explains the different types of ground transportation, and how to save money as you plan your itinerary. We offer honest answers to these questions:
At Orlando Shuttle Service, we've already done the research for you, so you don't have to waste your time visiting multiple websites, trying to get quotes for shuttle service. And we offer some exclusive deals here you can't find anywhere else. Just use our simple online form to specify where you're headed and how many people are in your party, and you'll get an instant list of quotes for the best transportation providers in the area.
Make a reservation with us, and you'll arrive in Orlando knowing a driver is waiting to take you to your destination!
Why take a shuttle?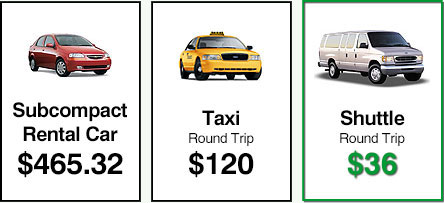 A subcompact car rental in Orlando can cost up to $450 or more! A taxi is expensive and doesn't accommodate large families or groups. Even shared-ride transportation can cost more than $200 round trip for a single family. Our web site offers a streamlined, intuitive and simple design to allow visitors to compare ground transportation rates based on group size and destination. In three easy steps the site visitor can choose their routes, compare rates and reserve their transportation conveniently online. Consumers pay no additional reservation fees and get confirmed rates instantly.
Do you only offer shared-ride shuttles?
With our site, you can compare rates for both Shared-Ride Shuttles as well as Private Vehicles — sometimes private transportation in Orlando costs less than shared-ride transportation options! Just enter your trip information & let our powerful search tool find the lowest online rates for your Orlando hotel transportation.
Should I choose "Shared Ride" or "Private"?
For only 1 or 2 passengers, the difference in price between booking a seat on a shared-ride shuttle compared to reserving a private driver can make it tempting to select the cheaper option. The primary things to consider when making your decision are: you will likely have a 40- to 60-minute wait at the airport while others in your van assemble and the shuttle itself arrives; also, shared-ride shuttles will stop at multiple locations along the route -- this adds to the transportation time and also requires an earlier pick up time for your return trip. Some travelers are extremely satisfied with the service they receive with their shared-ride transportation, while others have become extremely frustrated. Conversely, with private transportation you select your pick up times, and your personal driver will take you promptly and directly to your destination.
How far in advance must I create my booking?
Advance booking requirements vary by company for private vehicle reservations, and most require a 24-hour notice to allow for proper scheduling of drivers to accommodate all the day's transfers. Each company's profile lists their specific accommodations — just click the transportation company name in the Compare Quotes listing. When you select a company, this pre-booking limit is also displayed at the top of the Reservation Details page for your convenience.
Shared-ride shuttle reservations do not have any pre-booking time requirements.
Do you only handle transportation to hotels?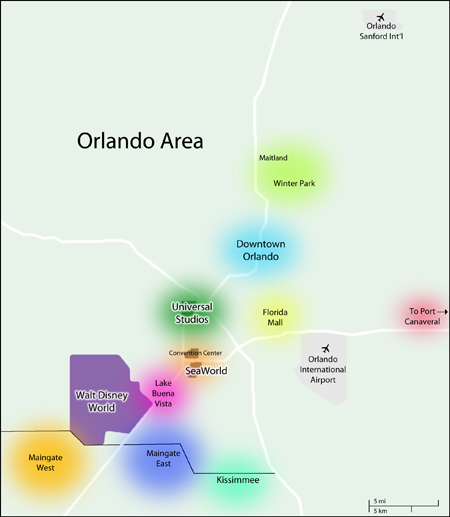 Despite our name, we can actually book transportation for you to other popular destinations in the area, or even to a specific address. This map shows the major areas covered currently by the quote system on the web site.
Going on a cruise?
Our
new quoting system
lets you book your entire trip more conveniently. You can also
contact us
to request the best price available for routes that aren't listed here.
Can I book other than round trip transportation with you?
Yes. One-way transportation can be reserved by choosing the "One Way" button on the Choose Routes page for hotel transfers. And our new Orlando Cruise transportation page lets you select 1, 2, or 3 transfers. We can also accommodate other multi-route transportation, rides to or from addresses not listed on our site, from your hotel to a theme park, shopping center or restaurant, plus charters for large groups and other custom reservations. Please contact us to request the best price available for routes not quoted on our site.
Which company should I choose?
We have sorted the companies in your quote list according to their level of quality. So if you are staying at the Four Seasons, these groupings make it easier for you to select an appropriate company for your transfers, rather than the lower rated Days-Inn-level providers.
If you are just happy to "get there" and not concerned so much about how, then the lowest price may be just right for you! But if you have little tolerance for occasional human error or older vehicles, then we recommend that you choose from our Business Class or First Class groupings.
Notice also that you can click the orange circle (with the plus sign in it) to expand each category's group to reveal many more quotes and companies from which to select.
What is the difference between Economy Shared-Ride, Economy Plus, Business Class, and First Class?
Economy Shared-Ride shows the transportation options where different people are transported in the same vehicle. These services charge a per-person rate, but your quote will display the full trip pricing for you and your traveling companions, so you can more easily compare the cost with the other price categories. (Don't be surprised if your party of 3 or more has a higher overall cost compared to the private transport choices.) Also, there is often a wait of up to an hour at the airport for all the passengers to arrive and be transported together. And your return trip will require an earlier pick up, since this vehicle stops at many hotels along its route. This is the only grouping in the quote list that does not offer a private car and driver for your transport.
Our Economy Plus grouping of companies are ones that provide exclusively private transportation, but tend to operate older vehicles than the higher priced companies, and their average rating (determined by travelers who have booked with them on our site) usually runs a bit lower as well. What this means is, we have received hundreds of very positive responses from those who have traveled with them, but some people have had a less than stellar experience. Often, a negative review is due to the tighter time schedule these companies must work with to stay profitable at lower price points. Without the time buffer usually provided by higher prices and more drivers on staff, things like human error and occasional trip delays can be more prevalent.
Companies listed in our Business Class group offer nicer, newer vehicles that show the finer detail of more time spent on vehicle maintenance inside & out. You'll find that these drivers dress sharp and offer a more elite level of service overall, coupled with their exceptional reliability record. Notice that for some trips you can book a company from business class for the same or similar price as the lowest economy price!
The First Class & Limousines category offers you the ultimate in quality across all areas of distinction.
Will I receive a confirmation receipt?
Yes. Once we have transmitted your reservation to the transportation provider you selected, a receipt with the details of your trip will be sent to the email address you provided during the reservation process. Be sure to print your confirmation email and take it with you on your trip; it includes helpful information that you may need to reference while you are traveling.
What if I need to cancel my reservation?
All of our listed transportation providers will provide a full credit towards a future trip for cancellations made 48 hours in advance of the pick-up date and time. Your confirmation email has more information on how to contact the selected transportation provider for your trip.
Do the transportation companies provide child booster seats or infant car seats?
The private transportation companies can provide infant car seats and booster seats as an extra service upon request, but you need to notify them in advance of your need. You can do this easily while booking your reservation on this site; just select the number of car seats or boosters you want to request by using the convenient drop-down list beside each option, which is displayed on the reservations details page when a child or infant has been indicated in the quote. These arrangements made with reservations through our site typically incur no additional charges by the transportation company, though some may have a nominal charge. Car seat and booster choices are REQUESTS ONLY and provided by the transportation company as available. You can always bring your own car seats with you if you wish, and most airlines will accept car seats at no charge under the plane along with checked luggage.
Note that the shared-ride shuttle companies do NOT provide child car seats. If you book a shared-ride shuttle and are traveling with a child under 4 years of age, you are encouraged to bring your personal car seat.
What if I am traveling in a wheelchair or require special assistance?
None of the companies listed on our site have vans with wheelchair ramps or lifts. If the wheelchair passenger can transfer with assistance to a standard passenger van, then just be sure you book a vehicle such as a Luxury Van or 14-Passenger Van to accommodate the wheelchair storage along with your luggage. Electric wheelchairs or other heavy mobility devices will require a 14-Passenger Van, which comes with a U-Haul trailer, to accommodate the chair. Please indicate in advance your need for wheelchair storage, as well as the nature of any special assistance required, by including a note in the "Special Requests" box on the reservations details page during your booking.
My ride's not here, what do I do?
Call the phone number for the transportation company that is providing your ground transportation. This information is included on the confirmation email that we send to you, and they can update you on any unexpected delays or help direct you to the pick-up area.For private transportation, make sure you meet your driver next to the baggage claim for the airline and flight that you submitted with your reservation. Orlando International Airport is quite large, and the airport authority has specified only certain areas where the drivers are allowed to wait for passengers.
If you are arriving on an international flight, your driver will meet you by that airline's baggage claim outside of the Customs area. Note that Virgin Atlantic baggage claim is on Level 1 of the airport, while all other airlines' baggage claim areas are on Level 2.
Where will my shuttle pick me up?
For private transportation, make sure you meet your driver next to the baggage claim for the airline and flight that you submitted with your reservation. Orlando International Airport is quite large, and the airport authority has specified only certain areas where the drivers are allowed to wait for passengers.
If you are arriving on an international flight, your driver will meet you by that airline's baggage claim outside of the Customs area. Note that Virgin Atlantic baggage claim is on Level 1 of the airport, while all other airlines' baggage claim areas are on Level 2.
Shared-ride shuttles have their own pick-up location within your arrival terminal at the airport. Follow the signs to locate the "Hotel Shuttle" stand. For private transportation, your driver will meet you in the Meet & Greet area located near baggage claim for your flight. At your hotel, pick up will occur right outside the front doors. You can ask the hotel bell staff any additional questions regarding shuttle or private transportation pick up.
What if my plane is late?
Drivers are available 24 hours a day. We collect your flight number and arrival airline name when we take your reservation so that your driver can monitor your flight's status in the event of any minor in-flight delays, and they can work to coordinate your change in schedule with other passenger's scheduled rides. So be sure to update your transportation provider with any change in your flight reservations before you travel.
If while traveling you learn that your flight will be arriving more than 30 minutes past its originally scheduled arrival time, be sure to contact your transportation provider promptly and stay in contact with updates regarding your flight status. The driver cannot wait at the airport more than 30 minutes due to airport regulations, and some smaller airlines do not provide timely flight status information, so it's best to call the transportation company as soon as you have new information so that your driver can coordinate his arrival at the airport with your flight's new arrival time
At any time if you are having difficulties locating your private ride driver near the baggage claim for your arrival airline, just call the direct phone number to the transportation company, as provided in the confirmation email sent to you upon your completed reservation. For shared-ride travel, follow the instructions in your confirmation email to arrange transport on the next shuttle.
Are extra fees or charges added to the rates shown?
We never add a reservation fee to the transportation companies' standard rates. Rates marked "Unconfirmed Price" are provided here for your comparison but may not be honored at final booking with the specified transportation provider, who may also add additional fees or charges to the indicated rate. Rates displayed on this site are updated regularly, but are subject to change without notice until the time payment for services is received by the transportation provider. Individual company policies may add nominal fee(s) depending on your trip details.
Gratuity of 20% for your driver is customary. Some transportation companies can add this amount to your credit card while others may ask that you tip in cash or by credit card. Each company has its own policy regarding gratuity and your driver should be able to explain that for you.
Do I pay Orlando Shuttle Service or another company for my transportation?
We send your trip information to the company you select on the Compare Rates page, and that reservation is subject to final acceptance by the chosen transportation provider. Rates displayed on this site are updated regularly, but are subject to change without notice until the time payment for services is received by the transportation provider. In most cases, the company handling your transportation will process the charge on your credit card. OrlandoShuttleService.com does not add any reservation fees to the cost of your transportation, but we do collect the deposit toward your trip upon booking.
OrlandoShuttleService.com is a service of Orlando Travel Resources Inc, a registered travel agency and authorized booking agent for ground transportation services. We are not responsible for loss of service or transportation delays. Please read the web site Terms of Use for more information.
If I cancel will you refund my deposit?
Due to bank and internet charges, the deposit for your trip is not refundable even when cancelled in time (as per our Terms and Conditions).
I am a travel agent; can I earn a commission on the reservation that I book through your website?
No. The prices listed on our site are the lowest possible rates for each route, and they are not commissionable.


Have other questions? We would love to help!
Please contact us at customer.service

@

orlandoshuttleservice.com